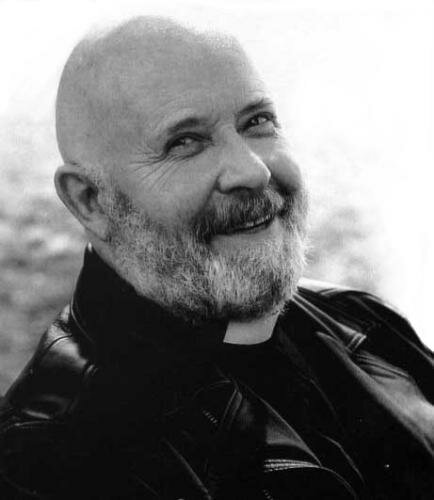 Saturday, February 9th, 2002
"Patricia and I would like to thank all speakers, attendees, supporters and helpers for a truly magnificent day: you were all WONDERFUL and we're very, very grateful. We are warmly looking forward to Reminiscon 60 in 2012: book now to avoid disappointment!"
The event was organised by
The Fanthorpe Management Consultancy
With the generous help and support of
The Welsh Academi

The Speakers were (in strict alphabetical order!)
Professor Jack Cohen
Lionel Fanthorpe
Peter Finch
Dave Langford
Terry Pratchett
Guy N. Smith
Robert Snow (Ghost Club Secretary)
Brian Stableford
Phil Walton (ASSAP)
Colin Wilson
Provisional Outline Programme
9.00
Registration and Distribution of Official Programmes
9.30
Grand Opening and Welcome
9.45
Lionel Fanthorpe: "1952 and How it All Began"
10.15
Musical Interlude: "Lionel's Songs from the Shows"
10.30
What does "Fortean" mean?
10.45
Coffee and Biscuits
11.00
Dr Brian Stableford "SF and Fantasy"
12.00
Hanover Buffet Lunch -- or guests own lunch arrangements
1.15
Lionel talks about "Miscellaneous Unsolved Mysteries"
1.45
Guy N. Smith "Writing, Publishing and Bookselling"
2.15
Peter Finch and Lionel Fanthorpe present a "Poetry Miscellany"
2.45
Professor Jack Cohen, Dr Brian Stableford & Lionel Fanthorpe
Combined Presentation: "Science, Magic and Miracles"
3.30
Tea/Coffee Break
3.45
Dramatic excerpts from some of Lionel's Plays including
"The Abbot's Kitchen" & "The Adventures of Eli Still"
4.15
Lionel reads a few extracts from his new
Religious Books published by Bishopsgate Press
4.30
Dave Langford presents "One-Man Live Thog's Masterclass"
5.15
Presentation of Jumbo's work for Children with Special Needs
5.30
Presentation of St Briavel's Centre's work for Children with Special Needs
5.45
Presentation of the Work of ASSAP Phil Walton
(The Association for the Scientific Study of Anomalous Phenomena)
of which Lionel is President and Patricia is First Lady.
6.00
Presentation of the Work of BUFORA Lionel Beer
(The British UFO Research Association)
of which Lionel Fanthorpe is President.
6.15
Robert Snow: Presentation of the Work of The Ghost Club
6.30
Presentation of the work of Mensa
6.45
Colin Wilson lectures and discusses his latest books.
7.45
Terry Pratchett Lectures and discusses his latest books.
8.45
Any Questions Session featuring a Panel of Guest Celebrities.
9.30
Celebration Dinner
Lionel Fanthorpe sold his first story Worlds Without End to Badger Books (John Spencer and Co Ltd. of Hammersmith) in 1952. Since then he has written and sold well over 250 books as well as numerous, columns, articles and features.
He has worked as a journalist, industrial training manager and teacher, and came to Cardiff in 1979 as Head of a Comprehensive High School, which he ran for over ten years, before returning to Show Business.
He is currently a radio and TV presenter, as well as a writer and lecturer.
His most recent books include:
Thoughts and Prayers for Changing Times
,
Thoughts and Prayers for Stressful Times
,
Mysteries of the Bible
,
Death: The Final Mystery
and
He and Patricia are currently working on
The World's Most Mysterious Murders
for Hounslow-Dundurn in Toronto. He is President of ASSAP and BUFORA, Patron of Jumbo Motorcyclists' Charity for Children with Special Needs, Fellow of the Chartered Institute of Management and the Royal Society of Arts.
He's a member of Equity, Mensa, the Society of Authors, the Ghost Club, the SPR and the Welsh Academi.
His main hobbies are weight training, martial arts and riding his Harley Davidson.